Venezuela 🇻🇪 is a South American country whose majority religion is Christianity.
Press freedom has been deteriorating since the 2002 coup attempt of Hugo Chavez. It ranked 159th on RSF's Press Freedom Index in 2022, although this is not quite the lowest ranking in the Americas (Honduras and Nicaragua are both ranked lower).
General censorship
[
]
Since the start of the Nicolás Maduro administration in 2013, there has been a marked increase in their policies against pluralism in the media. As a result, hundreds of newspapers and independent media groups in Venezuela since then had reduced their daily circulation or ceased their operations.
In August 2017, the Venezuelan Constituent National Assembly signed the "Constitutional Law Against Hatred, for Peaceful Coexistence and Tolerance", known as "Law Against Hatred", which is a gag law used by President Nicolas Maduro to penalize citizens who rebel against the government, establishing restrictions on personal freedom, promoting self-censorship and censorship by the organs of the State, as well to oppress anyone who opposes Maduro's Chavista government.
Book censorship
[
]
Internet censorship
[
]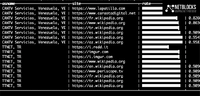 Websites publishing unofficial (black market) exchange rates are blocked in Venezuela as the government believes they are causing economic disaster and very high rates of inflation. The El Nacional newspaper is even blocked occasionally by the Venezuelan ISP CANTV for its frequent criticism of the Maduro government.
Wikipedia was blocked by the Maduro government in response to the 2019 Venezuelan presidential crisis, after the site stated that opposition leader Juan Guaido was the de facto President of Venezuela.
Movie censorship
[
]
Last Tango in Paris - This film was banned during the first presidency of Rafael Caldera, due to its sexual content.
Ledezma, El Caso Mamera - This film about Argenis Rafael Ledezma (known as "The Monster of Mamera"), a policeman who was jailed for 30 years for killing three young men in 1980, was banned for exposing state corruption, as well for being accused of being an apology of crime, with its director, Luis Correa, being imprisoned. However, the courts overturned both decisions.
El Inca - This film about the story of real-life professional boxer Edwin Valero (who was an undefeated world champion), whose career ended after he killed himself after he was suspected of killing his wife and admitted being the responsible, was pulled from cinemas and banned after a family injunction over the representation in the biopic. This was reportedly the first time a Venezuelan film has been banned in its country in 25 years. After its ban, the film was selected as Venezuela's representative as Best Foreign Language Film at the Academy Awards, which was a controversial choice.
Infection - this 2019 zombie-apocalypse film was not screened in Venezuela due to its portrayal of Chavismo in a negative light. The producers cooperated with the Centro Nacional Autonomo de Cinematografia (CNAC) over 9 months to try and get the film shown, but the film was still banned. The CNAC's former chairman defined this move as "censorship" and as result, Pedro Pedota, the film's director, is living in exile.
Chavismo: The Plague of the 21st Century - This documentary critical of Chavismo was banned from being shown in public and at universities for supposedly inciting "hate" (in compliance with the "Law Against Hatred" signed by president Maduro) by order of the pro-government Supreme Tribunal of Justice of Venezuela. The Simon Bolivar University Teachers' Association responded by saying: "The regime's tribunal is a pretender and silences the freedom of speech once more in Venezuela. USB academics are affected because the university is forced to stop a screening. We expect domestic and international support." The director of the documentary, Gustavo Tovar-Arroyo (who lives in exile) and stated that the ban of his documentary was a "success without precedent", because now students would want to watch the documentary more.
Television censorship
[
]
Radio Caracas Televisión's (RCTV) terrestrial broadcasting license expired in 2007 and has not come back in the air since then. The Chavista government refused to renew it because of it being anti-government and its participation in the 2002 coup.
Hugo Chavez's administration was quick to ban any show that they disliked, such as the Colombian soap opera Chepe Fortuna, whose subplot corncerned two middle-aged sisters, Colombia and Venezuela. Colombia was depicted as an industrious, honest and long-suffering lady, while Venezuela was depicted as a fat woman who believes to be gorgeous and constantly getting into ill-fated get-rich-quickly-schemes and loves excessively her tiny dog named Hugo, which the Chavista government found unflattering.
Family Guy: The season 7 episode 12 "420" was banned after the Venezuelan government reacted negatively to the episode and banned Family Guy from airing on their local networks, which generally syndicate American programming. Local station Venevisión was threatened with financial sanctions for broadcasting the show, which was avoided by airing an episode of Baywatch instead and they aired public service films as an apology. Justice Minister Tareck El Aissami stated that any cable stations which refuse to stop airing the series would be fined and he also claimed that it promoted the use of cannabis.
Video game censorship
[
]
Most video games containing substantial impact of violence are easily banned and confiscated by Venezuela within its borders.
A law banning all video games that include objectives in which the player has to kill, was approved in late 2009 and made effective in March 2010.
External links
[
]
This article is a stub. Please help the Censorship Wiki by expanding it.
Censorship by country
Americas
Europe

Armenia

Belarus

Croatia

Czechia

East Germany

Estonia

Georgia

Germany

Hungary

Latvia

Lithuania

Serbia

Slovakia

Slovenia

Switzerland

Middle East and North Africa

Kuwait

Libya

Oman

Palestine

Qatar

Syria

Tunisia

Yemen

Sub-Saharan Africa

Burundi

Cameroon

Equatorial Guinea

Eswatini

Ethiopia

Guinea

Liberia

Malawi

Mozambique

Sudan

Zambia

Asia

Laos

Mongolia

Taiwan

Tajikistan

Australia and Oceania