Saudi Arabia 🇸🇦 is a Middle Eastern kingdom that is primarily Islamic, and has an Arab majority.
General censorship
[
]
Censorship is pervasive as it is an Islamic country, and the Saudi Arabian government's human rights record is poor. National law does not permit any independent media outlets from operating within Saudi Arabia. It is ranked 170th out of 180 in Reporters Without Borders' freedom of the press. Society is also exceptionally conservative, with the civic law on the land being based on Sharia. All forms of homosexuality are illegal and punishable by death.
Book censorship
[
]
Queen of Sheba and Biblical Scholarship - this history book is banned in Saudi Arabia for suggesting the Hebrews originated in Yemen and their Israelite successors established their original pre-586 B.C. kingdoms of Israel and Judah between Medina and Yemen
Goat Days - this novel by Benyamin and Joseph Koyippally is banned in Saudi Arabia.
Fazail-e-Amaal - this Sufi evangelism book is banned in Saudi Arabia.
Movie censorship
[
]
While the film medium is not banned, public cinemas were outlawed from 1983 to 2017. In 2018 they started to open them up. The first film to be screened in Saudi Arabian theaters, Black Panther, was censored by removing 40 seconds of a scene of two characters kissing.
Doctor Strange in the Multiverse of Madness - This film was banned as it features an LGBT character.
Eternals - This film was banned after Disney declined a request by censors to edit scenes depicting a couple in a same-sex marriage.
Harry Potter - between 2002 and 2018, any movie of the Harry Potter series was banned due to "occultism and satanic propaganda". The ban however was lifted in 2018.
Fahrenheit 9/11 - This movie was banned for its criticism of the Iraq war and for being an insult to the Saudi royal family.
The Kingdom - this film was banned for being a "false depiction" of a 1996 bombing in Saudi Arabia
King of the Sands - banned for depicting ibn Saud, Saudi Arabia's founder.
Noah - banned for depicting prophets (Noah is considered as an important prophet of Allah, according to Islamic teachings).
Onward - banned due to a minor reference to a lesbian relationship.
Television censorship
[
]
*Al Jazeera - In June 2017, Saudi Arabia, among many other countries, cut diplomatic ties with Qatar over allegations that the Qatari government financiated terrorism. As part of the sanctions, Al Jazeera and other Qatari new agencies ceased to operate in Saudi Arabia, as well the sports network group beIn Sports, which has its HQ in Qatar and has a major stranglehold on many sports properties in the entire Middle East. A few months later, a pirate satellite called beoutQ, which rebroadcaste beIN Sports channels with beoutQ logo's overlaid over its own, as well as airing anti-Qatar propaganda during its programs. However, beIN and other sports organizations were not amused by the service, but no one knew who runs it. This got to the point where Saudi football fans could not even "legally" whatch the 2018 FIFA World Cup, which the Saudi team was in.
*Patriot Act with Hassan Minhaj - the second episode, "Saudi Arabia", was banned for being heavily critical of the Saudi government, specifically about the role of the Crown Prince Mohammed bin Salman in the plot of the assassination of the journalist Jamal Khashoggi. Hasan Minhaj discussed this incident in another episode of his show, "Censorship in China".
Generally, shows with LGBT characters are either banned or censored in Saudi Arabia. For example, when The Loud House was dubbed in Arabic, one of Clyde's dads, Howard, was changed to a woman.
Pokémon: due to the banning of the Trading Card Game (see below), Venus Center and Animation International ceased the distribution and dubbing of Pokémon in 2001. However, the Lebanon-based KM Productions and its sister company Super M Productions took over the dubbing production of the anime and recast everyone.
ALF: TBA as if the kissing scene or hugging scene and/or alcohol scenes are digitally removed or banned.
Video game censorship
[
]
Most banned games can be found in many stores due to a lack of government enforcement of bans (often at a substantial price). However, some major stores will not stock banned titles.
The God of War franchise games were banned for a few weeks due to the presence of interactive sex scenes, partial nudity and sexual themes, as well as the word "God" in the title. In 2018, the newest game in the series was approved for release.
Call of Duty 4: Modern Warfare was banned for setting the Middle East war part in Saudi Arabia. Although it is set on an anonymous country in Middle East, the satellite maps point roughly to Saudi Arabia.
Assassin's Creed was banned for two weeks because of a perceived negative portrayal of Arabs. Later, it was completely banned due to its use in the Blue Whale Challenge.
Heavy Rain was banned because of high impact violence, nudity and a sex scene
Pokémon TCG is banned in Saudi Arabia for "promoting gambling and Zionism", due to the Colorless type symbol resembling the Star of David.
Internet censorship
[
]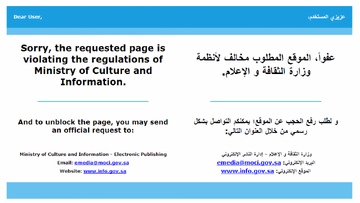 Ranked "Not Free" by Freedom House's Freedom on the Net, scoring 24 out of 100 in 2021.[1]
The Saudi government uses an American filter to censor pornography and occasionally block access to blogs, journals, Flickr...
References
[
]
Censorship by country
Americas
Europe

Armenia

Croatia

Czechia

Estonia

Georgia

Germany

Latvia

Lithuania

Serbia

Slovakia

Slovenia

Middle East and North Africa
Sub-Saharan Africa

Burundi

Cameroon

Equatorial Guinea

Eswatini

Ethiopia

Guinea

Liberia

Malawi

Mozambique

Sudan

Zambia

Asia

Laos

Mongolia

Taiwan

Tajikistan

Australia and Oceania
This article is a stub. Please help the Censorship Wiki by expanding it.