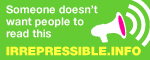 Irrepressible.info is a campaign and website by Amnesty International and The Observer. It is based in the United Kingdom and was developed by Soda Creative, but is open to participation from people around the world.
The campaign, which is intended to mark 45 years of activism by Amnesty International, asks users to sign a pledge opposing online repression. The organizers plan to present a list of the signers at the United Nations Internet Governance Forum in Athens, Greece in November 2006.
This article is a stub. Please help the Censorship Wiki by expanding it.